Wow that's a mouthful.. oh and I'd like to add LOTS of garlic, and mushrooms to that title!
If you're looking for a nutrition powerhouse of a meal then look no further. On top of it, this recipe is so incredibly tasty! It's loaded with veggies (who knew kale could ever taste this good!) and protein with the right balance of fat to create a well rounded meal- perfect as a post-workout lunch or dinner! I used to always add pasta to this dish but after making it without I realized how delicious it is on it's own. There are tons of textures, flavours and richness that you don't even need the pasta. But if you'd like to stretch this dish out and perhaps serve to a few more guests it goes great with tagliatelle or wide egg noodles as they hold up well against all the ingredients.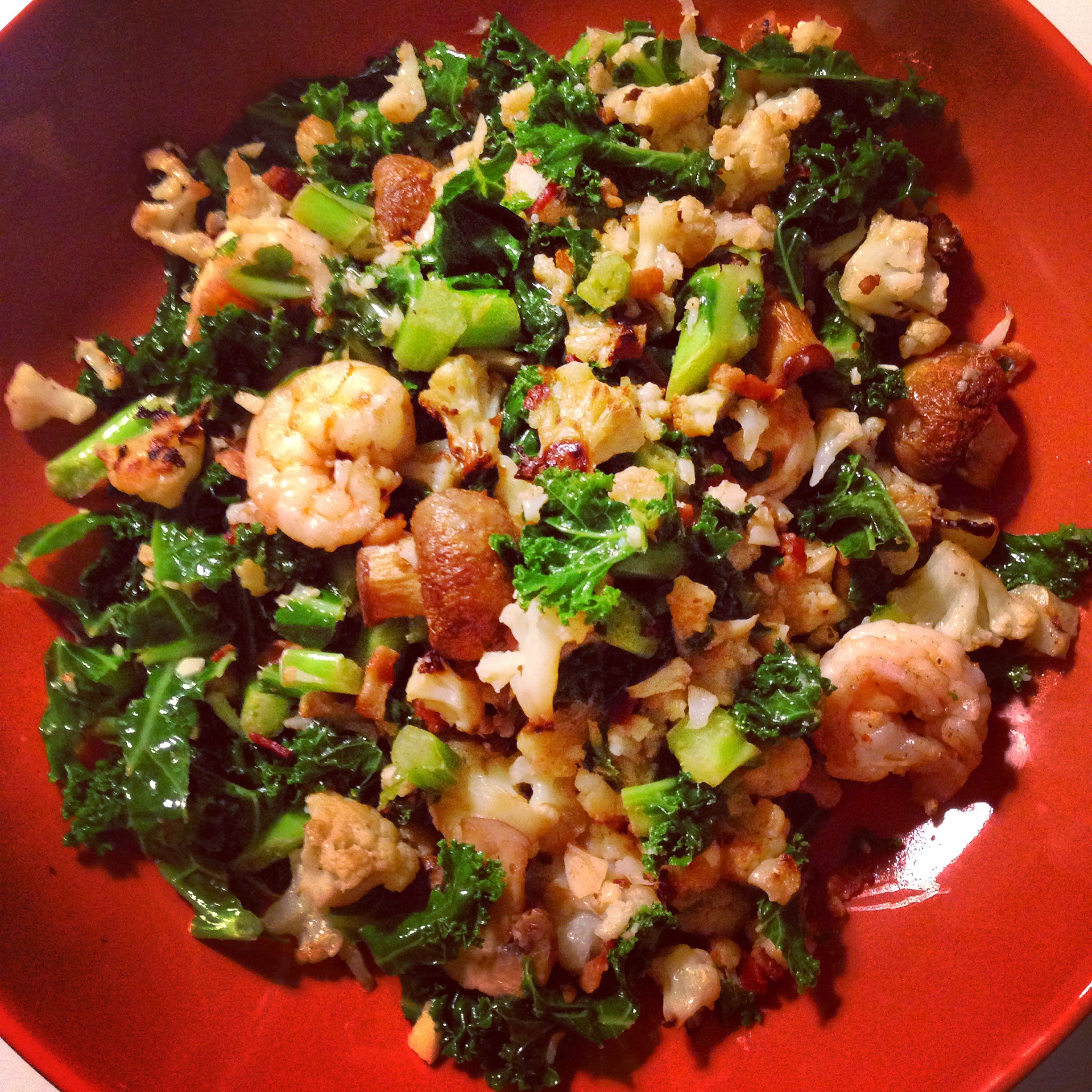 Remember, we are cooking with the bacon fat here folks! So you don't need any other oils, unless you find your food begins to stick to your pan. This is why a non-stick pan is ideal. Serves approx. 2 people.
Ingredients:
1 head of cauliflower, cut into small florets, discarding as much of the tough stems as possible.
6-8 medium white or cremini mushrooms sliced in half
2 slices of bacon, cut into thin strips.
12 medium raw shrimp, peeled, deveined and thawed if frozen
1 tsp chili flakes
2 Tbsp chicken (or veg) broth or white wine. (Optional. See below)
1 bunch of kale, washed and cut into bit size pieces, discarding the tough middle stems.
3-4 garlic cloves, minced (depending how garlicky you like it). I like ALOOOT!
Parmesan regiano or pecorino romano (strong cheese is key to withstand the intense flavor of this dish)
Directions:
Preheat oven to 425°F.
Place cauliflower florets and mushroom halves on a sheet pan; drizzle with olive oil. Arrange them in a single, even layer. Roast, stirring halfway through, 20-25 minutes, or until cauliflower is golden brown. (keep an eye on them as they can go from golden to burnt pretty fast)
When done, remove from oven and let sit until ready to add to the kale mixture at the end.
While the veggies roast, add your bacon to a large pre-heated pan on medium high heat, stirring often until fully cooked and fat has drained into the pan.
Remove the bacon with a slotted spoon or fork and set aside for later, keeping all the bacon fat in the pan.
Add shrimp and chili flakes to pan sautéing constantly until shrimp is pink on all sides.
Add kale to pan, 1 big handful at a time constantly mixing it in with shrimp and bacon fat. Let the kale wilt down a little before adding in 2nd handful, and same for 3rd (3 handfuls is about the max I add for this recipe. You want all the kale pieces to be able to absorb all the flavours.)
Add the garlic. Keep sautéing making sure to coat all the kale with the garlic
(optional) This is when you can add your broth or wine if pan has dried up to help allow kale to steam without overcooking it. You want the kale to remain bright green and not completely wilted! So just a few minutes will do.
Remove pan from heat when all the kale has reduced and liquid has evaporated.
Add bacon, cauliflower and mushrooms into pan and mix well.
Serve immediately. Shred a little (or a little more 😉 cheese on top of each warm plate and mix well.
Most importantly- Eat and enjoy!!
Try this out and let me know how it all went down! Feel free to share your experiences on my Twitter, Facebook, or Instagram page 🙂 
Justine