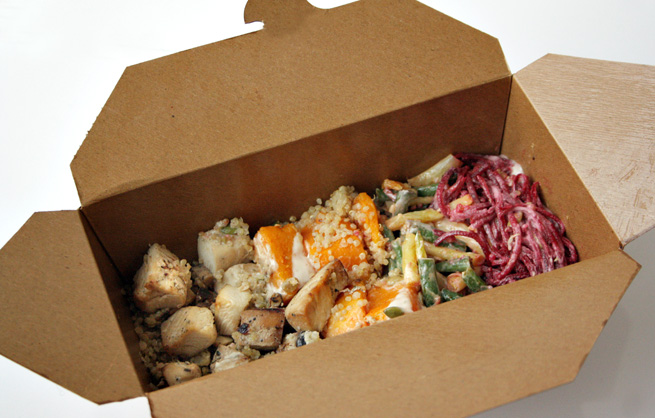 Earlier this week we covered the top 3 healthy dine-in restaurants in the city. Today we tackle the world of take-out. Toronto is a city that is go go go all the time. Dine and dash, hit and run, in and out. There are endless take-out joints lining our streets or in many underground food courts. Here are 3 of my favorite clean eating options, covering different areas of the the city when you're looking for a healthy alternative to traditional fast food.
With locations in Kensignton Market, The Eaton Center and College St. W, this is probably the best salad bar in the city. You choose a greens or grains base, 6 toppings, and one of their house dressings. Everything is prepped on site, and the staff are super helpful in offering suggestions. Look out for the baked goods though, just because they are organic & vegan doesn't necessarily mean they're healthy. While delicious- The Toronto Star discovered that the Sweet Potato Date muffin contains 38 grams of fat and 986 calories!

An international chain, it feels like there are Freshii locations everywhere. There are almost 20 of them all over Toronto alone, making this a good option when you're on the go, wherever you are! Freshii has a wide variety of different salads, wraps and bowls that can make a nutritious meal. What I like the most though, is that their website is very comprehensive and offers up all the ingredients and nutritional info for their whole menu- so be sure to check that out before ordering. You can also get a hard copy of this information at most of their locations just by requesting it.
This newer Queen West Take-Out Shop is super cute and offers a wide variety of healthy meals. Similar to Fresh's menu- their grain bowls are to die for. If you are very specific and/or picky as to what you like in your salad I suggest you choose their "design your own" option, which also applies to their grain bowls. This allows you to pick exactly what you want from tons of delicious ingredients. At just $9, this is a steal for this level of quality.
What are your favorite healthy restaurants in the city? As always, I love hearing from you. Feel free to share your dining suggestions on my Twitter or Facebook  page.

Bonne appétit! 
Justine