Buying new healthy ingredients is such an important step to improving your health- but once you've stocked your pantry with healthy basics, what next? It's great to have a couple staple recipes for each new ingredient- so let's start with one of my favorites- Almond Butter!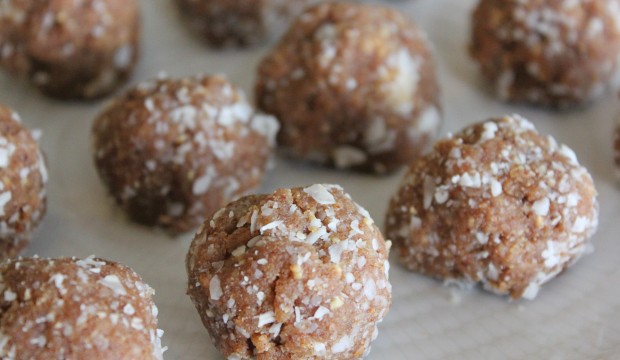 Almond butter is made up mostly of healthy unsaturated fats, i.e. the healthy fats that don't raise blood cholesterol. I give it quite and edge over peanut butter for several reasons. Almond butter has a higher amount of several key vitamins and minerals including vitamin E- which acts as a powerful antioxidant for the body, as well as calcium and magnesium- both essential for bone & muscle health, which makes it ideal as a post workout recovery snack.

The quality of nut butter you buy is even more important. Whether you're going for almond, peanut, sunflower etc.. make sure you read the label and look for one that's minimally processed without added sugars, hydrogenated oil and preservatives. Ideally, choose an organic kind that contains only crushed nuts and maybe some sea salt. My favorite brand- Maranatha can be found in the organic section of your grocery store.
Almond butter is definitely one of my favorite condiments, for its taste, nutrition content, and versatility. It is delicious on toast, in smoothies, and can even be used as a healthy batter alternative.  It can be used in both savory and sweet recipes- so here is one of each, simple enough for the greenest cook or to create with your kids.
Savory Recipe: Almond Battered Root Vegetables
2-3 Parsnips or Carrots
1 Tablespoon Coconut Oil
3 Tablespoons Almond Butter
Dash of Salt, to taste
Optional, Drops of Sriracha
Julienne the parsnips into thin, fry-like strips, then place in a bowl and toss with the oil and almond butter.
Spread onto a large baking tray and bake at 400F for 40-50 minutes, until the parsnips are soft on the inside, crispy on the outside.
** Warning: these are highly addictive.
Sweet Recipe: Raw Date Almond Bites
These sweet frozen morsels are a perfect healthy option when your sweet tooth strikes!

1 Cup Dates
1 cup slivered almonds
½ cup Raw Almond Butter
1 tsp Cinnamon
½ tsp Sea Salt
 ¼ cup shredded coconut
Throw all the ingredients except coconut into a food processor.
Pulse until it forms a sticky dough. If too sticky, add more almonds or throw in some dry oats. If too dry add more almond butter.
Form tightly into small balls and roll each ball in coconut. Place them in a dish in a single layer, covered, and store in the freezer.
Have you experimented with other nut butters? Cashew, sunflower, hazelnut…mixing it up can help keep eating interesting. Share your recipes and comments on my Twitter or Facebook pages.. I love hearing from you!
Happy cooking 🙂
Justine