I love to cook with local Ontario produce. There's nothing like using what's from our soil.. Beets and blueberries are some of my favorites. Firstly, they both add a ton of flavour to anything you add them to. But even more importantly they are nutritionally loaded with antioxidants which help everything from eye, skin and heart health, as a result extending our lifespan. Can't go wrong with that eh? Let's break them all down before I get into sharing the yummy recipe I have for you guys…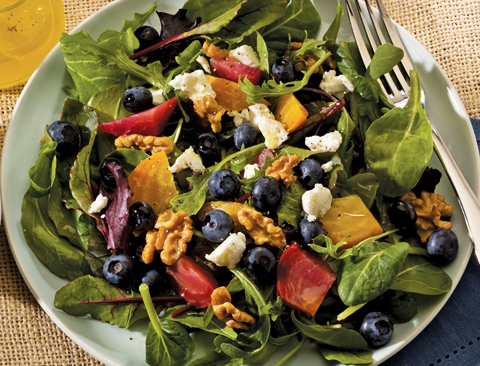 Why I think this is a perfect antioxidant salad…

1- Beets are extremely high in antioxidants including vitamin C and manganese. They also contain unique phytonutrients which provide antioxidant support in a different way than other antioxidant-rich vegetables including having special benefits for eye health and overall nerve tissue health. More and more health studies are beginning to recognize beets as a standout vegetable in this area of antioxidant support. They also have anti-inflmmatory benefits, And best of all, they are sweet tasting without adding all the extra sugar and calories!
2- Blueberries have always been deemed the super food in the antioxidant world. They are literally bursting with nutrients and flavor, and yet again, very low in calories. Recently, researchers at Tufts University analyzed 60 fruits and vegetables for their antioxidant capability. Blueberries came out on top, rating highest in their capacity to destroy free radicals.
So…Why not combine them together for one nutrition packed meal?
ingredients
4 beets
Garlic cloves (2-4 cloves depending on love of garlic)
2 tbsp Canola oil (or veg. oil)
Goat cheese crumbled – about 5 oz (or to liking)
4 cups spinach
¼ cup chopped walnuts
½ cup Blueberries
2 tbsp Olive oil
2 tbsp Balsamic vinegar
directions
Cut off stems from beets
Place in backing dish and mix with garlic, oil and salt and pepper. Cover with foil.
Bake at 400 F. for 30-40 minutes- or until beets are tender when pierced with a fork
Peel beets and cut them into small cubes
Place beets along with remaining cooking liquids and garlic, in a bowl.                    (all these steps above can be done ahead and stored in the fridge until ready to serve)
At serving time, combine beet mixture with spinach, nuts and blueberries.
Add equal amounts of olive oil and balsamic vinegar depending on portion size and liking
Crumble goat cheese on top and ENJOY !
For info on when fruits and veggies are available and/or in season in Ontario check out the  Foodland Ontario site Availability Guide